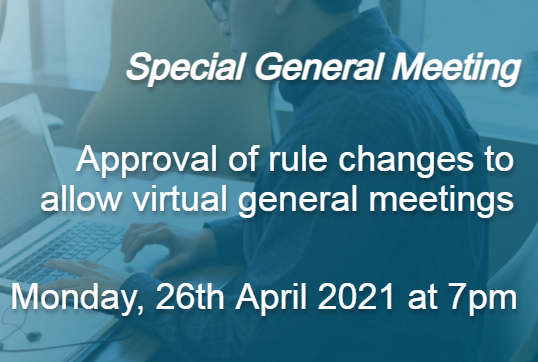 Notice is hereby given that a Special General Meeting of Core Credit Union Limited will take place online via Zoom on Monday, 26th April 2021 at 7pm.
The meeting will be held wholly by use of electronic communications technology.
The purpose of this Special General Meeting is the adoption of amendments to the Standard Rules for credit unions, pertaining to the hosting of virtual General meetings in future.
Pre-registration is required. The registration deadline is 12.30pm on Saturday 24th April 2021.
CLICK HERE TO REGISTER
A SGM booklet and a SGM meeting guide are provided to help with any questions you may have.
CLICK HERE FOR MORE INFORMATION
All members are invited to attend.
John O'Reilly
Secretary
Core Credit Union Limited