Congratulations to Francesca O' Halloran winner of the 7yrs & under category of the Credit Union Art Competition from the Shankill office of Core Credit Union.
Francesca's picture will go forward to the next round of the competition.
The theme this year was "Happiness is.."
As a reward for her great work Francesca's class from St. Annes N.S. Shankill all got to come to the Credit Union on International Credit Union day for a complimentary ice cream!
The winner with her picture and ice cream!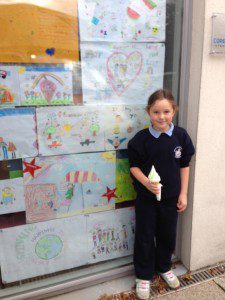 The winners class mates enjoying their ice cream.