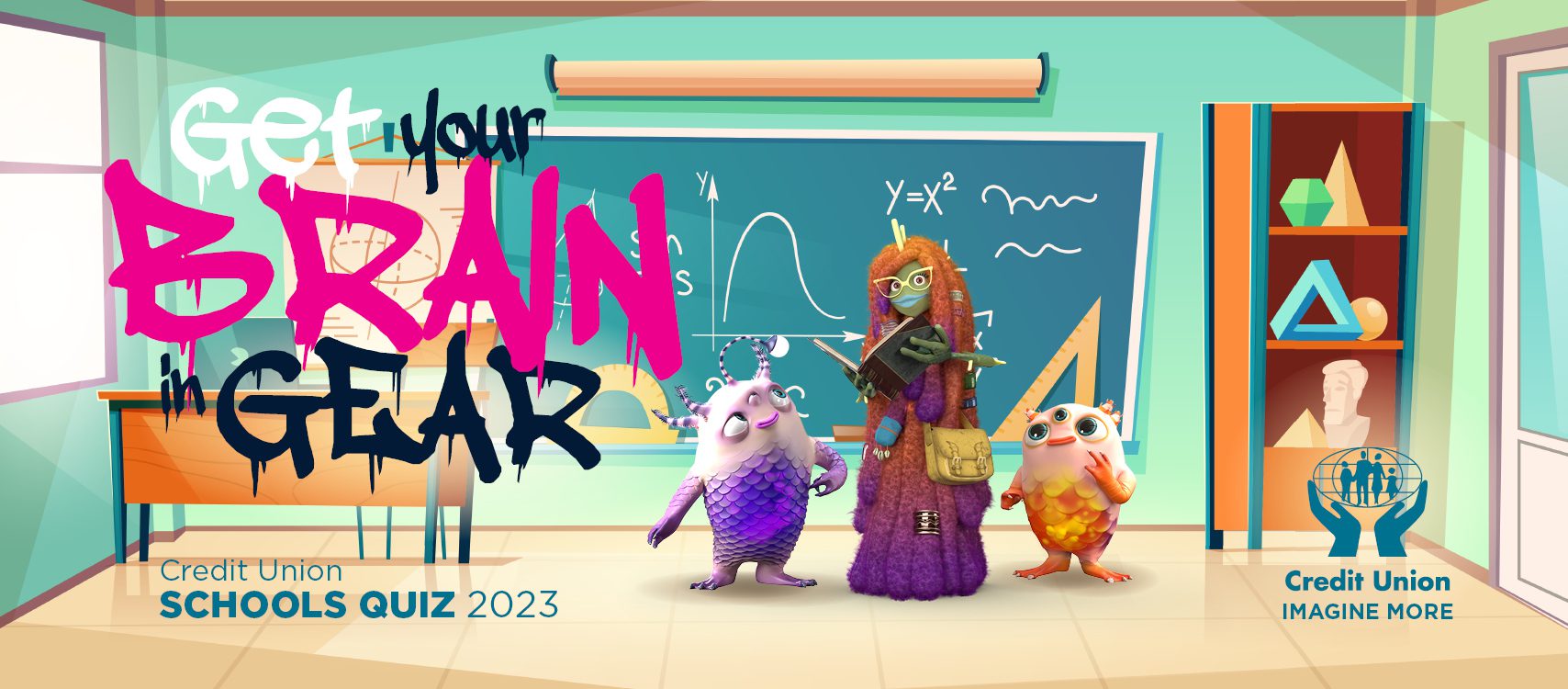 Get your Brain in Gear for the Credit Union Schools Quiz 2023!
School children around the country are gtting ready to get 'their brains in gear' as the Credit Union Schools Quiz returns.  Core Credit Union is encouraging children and schools in the local area to get fighting fit to claim victory in the Credit Union Schools Quiz 2023. The Quiz will culminate in a fiercely fought national final at the RDS Dublin in April.
All primary schools in the local area are welcome to contact us and register for the 2023 competition.  The quiz begins with a knock-out stage at local level, organised by Core Credit Union to take place at Cherrywood Educate Together National School on Monday 30th January 2023 @ 7pm sharp.  There will be some fantastic prizes for the winning teams of 4, who will also progress to the regional knockout stages in early March.
The winning teams from the regional stage will then make it through to the Grand Final at the RDS, Dublin in April 2023.  Here they will be pitted in a nerve-wracking battle of the wits against a number of other formidable teams of four.  All teams will have their eye on the prize with a total of €4,000 up for grabs for the overall winning schools.
Registration for the 2023 Schools Quiz is now open and local schools and children interested in participating can contact Core Credit Union for entry forms and further information.
Children interested in taking part can also log on to www.creditunion.ie and brush up on their knowledge via an online, interactive quiz.
About the All-Ireland Schools' Quiz
The quiz is divided into two sections:
Competition A: Under 11 – for entrants aged 10 or younger on 31st December 2022
Competition B: under 13 – for entrants aged 12 or younger on 31st December 2022
The winning teams at the national finals will receive €1250 per school, with the runner up teams in each category receiving €750 for their schools, adding up to a fantastic prize fund of €4000.  Local and regional winners will also receive a range of prizes.