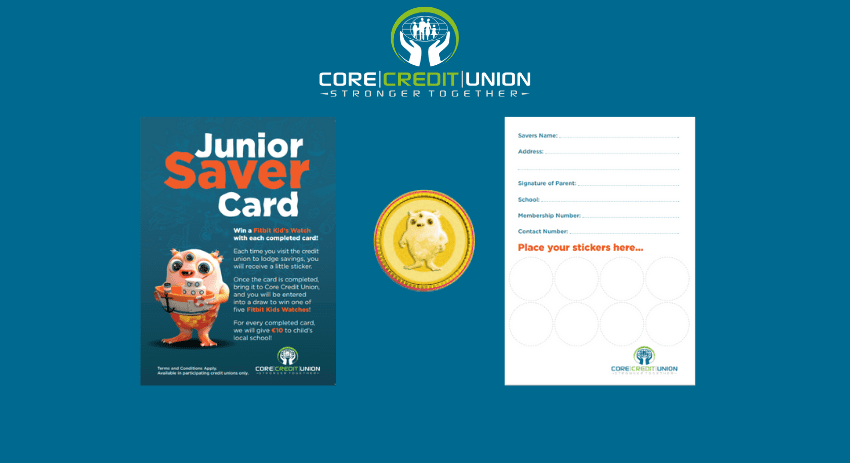 IMAGINE MORE WITH A
SAVINGS ACCOUNT
Do your children know the importance of saving?
Of earning cash by helping with chores, and behaving? If their dream is to own a toy plane, a boat or a fish…If they save up their money, they might just get their wish!
Talk to Core Credit Union about opening a savings account for your junior saver today.
A DIFFERENT PLACE FOR
CHILDREN'S SAVINGS
INTRODUCING OUR NEW JUNIOR SAVERS REWARD SCHEME!!🥳🤩👧🧒👶
We are delighted to announce our new scheme – just for kids and we are promoting it in all our offices during Junior Savers Week (20th – 26th September 2021) to raise awareness on the importance of saving for the future.
The Junior Saver cards are available in all our branches..
* Pick up a Junior Saver Card
* Get a sticker every time you make a lodgement
* Complete the card with 8 stickers to be in with a chance to win one of 5 Kids Fitbits
* Put completed card into box provided in branches
A Raffle will take place on 1st December '21 with 5 Kids Fitbits (1 per branch) up for prizes.
Also each completed card will earn the child's school €10 (up to a maximum of €500 per annum)
Pick up your card today in any of our offices and start saving🙂