Congratulations to Ms Julie Fitzgerald and Ms Colette Burke on winning a ticket to the 'The Moviemaker in Your Pocket' workshop in conjunction with Dalkey Creates Festival on Saturday 21st October.
The draw took place on International Credit Union Day at Core Credit Union Dalkey by Elizabeth Woods (pictured below) who picked the two winners.  Amanda Webb will be hosting the workshop in Dalkey Library from 2pm to 5pm.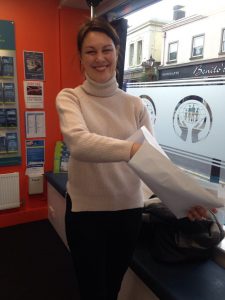 Amanda Webb has spent ten years working in Irish film and television, she always knew she'd be in 'the media'.
'In 1995 I stepped off my first ever commercial flight. My bags and heavy boxes trundled around the luggage belt towards me at Dublin airport. I had £300 in my pocket and was ready to start something new.'
When she was fifteen, her Mother brought her to the local hospital radio station and by the time she was sixteen she'd been given her own show. 'Manda's Metal Daze' was on just after the Bingo every Wednesday night. The show ran for two years until she went to college to study film and television. Fresh out of college and dying to use her new skills she met a fledgeling film director in London. They were about to make a film in Ireland and that's how she ended up at Dublin airport with a pile of luggage.
Ten years of muddy fields, rainy mountains, tiny spaces with twenty other crew members. She worked on some high-profile productions such as Angela's Ashes, Ballykissangel and Adam & Paul.
But she wanted something else. She wanted to be her own boss, so she started a hamper company. That was when her marketing journey began. The hamper company didn't survive the recession but she did. She started a new company working with small businesses to help them market themselves better online. She co-founded Blog Awards Ireland. She was published on Social Media Examiner, Jon Loomer, Razor Social and Agorapulse. In 2014 she published her first book '365 Social Media Tips.' Now she creates a weekly YouTube show, podcasts and blogs. She's become a serial content creator. This year, Amanda's blog was named one of the Top 10 social media blogs in the world by Social Media Examiner.
Looking back on her days in the film and television business her mind boggles. Instead of dragging truckloads of equipment up hills and across bogs she can now shoot broadcast quality video on her mobile phone: one little device and one person can create content that people will watch, tens, hundred, thousands even millions of times.
Sounds like a treat to me Julie and Colette! Enjoy.
Happy International Credit Union Day to all our Members!