2017 is an exciting year for Sallynoggin Glenageary Credit Union
Founded in June 1967 with approximately 100 members, the credit union opened for business in St. Kevin's School on Friday evenings and Sunday mornings.  By 1969 over 1,000 applications for membership had been received which lead to purchasing the premises at 8 Church Place, Sallynoggin.
Over the years the building was renovated and expanded first in 1987 and then a major refurbishment in 2000.  In 2014, Sallynoggin Glenageary Credit Union merged with Core Credit Union which has 7 offices and over 30,000 members in the Dún Laoghaire area.
On this momentous day, Irish credit unions joined 68,000 credit unions globally to help celebrate International Credit Union Day.
For over 50 years, credit unions in Ireland have been trusted to meet the financial, economic and social needs of their local communities. They are central to the everyday lives of millions of members. Credit unions remain popular and continue to succeed because they stay true to their values and ethos. While the future will bring opportunities for growth and innovation, they are at the heart of communities, serving members' best interests.
To mark the Credit Union's 50th anniversary an exhibition of photos was displayed; a proud moment for our heritage.  Pictured (L-R), Liam Sullivan (board member), Colette Reid (past manager), Matt Whelan (founder member/ex director), Pauline Wolfe (ex chair) and John Oliver O'Toole (founder member/ex board member).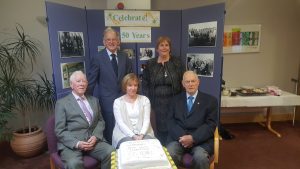 Michael Byrne, CEO comments, "The timing of International Credit Union day coupled with our 50th anniversary celebrations demonstrates the excellence of our community and how we strive to offer affordable financial services to all of our Members.
In addition, we extended the loan duration on certain types of loans making it easier for members to borrow. Its excellent news for members who can avail of a variety of loans from Core Credit Union at the Sallynoggin Glenageary office at very competitive rates."
A coffee morning was held for all Members in each of the 7 Core Credit Union offices, with the exciting news Patrick and Val Robinson are winners of a new Suzuki Swift from the Members Car Draw.  Congratulations!