DÚN LAOGHAIRE AT OUR CORE
THE CENTRAL BANK OF IRELAND HAS APPROVED THE TRANSFER OF GLASTHULE – DÚN LAOGHAIRE DISTRICT CREDIT UNION LTD TO CORE CREDIT UNION LTD
MEMBERS WILL BENEFIT FROM LONGER OPENING HOURS, 5 OFFICE LOCATIONS AND ACCESS TO SAVINGS 6 DAYS A WEEK.
(23rd July 2015) The Board of Core Credit Union Ltd is happy to announce the opening of a fifth office today following the Central Bank's approval of the merger of the former Glasthule – Dún Laoghaire District Credit Union Ltd with Core Credit Union Ltd.
Core Credit Union Ltd is itself the product of the successful merger last year of Dalkey Credit Union Ltd, Sallynoggin / Glenageary Credit Union Ltd and Shankill, Ballybrack & District Credit Union Ltd.
Today's merger means Core Credit Union Ltd now has 24,000 Members, in excess of €86 million in assets and €52 million available to lend.
Commenting on today's announcement Michael Byrne, CEO of Core Credit Union Ltd said; "Todays merger announcement is great news for people living and working in Dún Laoghaire who can now avail of a full range of financial services across 5 offices and online from their local Credit Union"
Today's merger will enhance the services currently provided by both Credit Unions. Core Credit Union Ltd is excited also to announce the upcoming launch of the "Core Payment Account". From this account Members can avail from a full range of electronic services such as direct debits, credit transfers and bill payments; both online and from their Apple or Android phones through the Credit Unions' CUAnywhere app.
Michael Byrne added; "Our Members and their respective local communities are the ultimate beneficiaries of today's merger. They are now part of a larger, more efficient and financially secure Credit Union which can continue to provide loan and saving facilities across the local catchment area, but do it in a way that competes effectively with the high street bank."
The Boards of each of the two Credit Unions approved the merger plan last month. Speaking about the merger, Core Credit Unions Ltd.'s Chairperson Jean O'Hara said; "These mergers make perfect sense not only from a financial and member service perspective but also an administrative one. The voluntary Boards of many Credit Unions are finding that it is easier to meet the challenge of a more demanding regulatory environment through combining resources. Ultimately all Board members want to see Credit Union services retained in their localities which is exactly what these mergers are helping to guarantee."
"As far as the Credit Union Movement is concerned I think 2015 will be noteworthy year. The Movement overall is robust with €2 billion in reserves. Credit Unions are building scale and efficiencies to really provide an alternative banking force in this country." She concluded.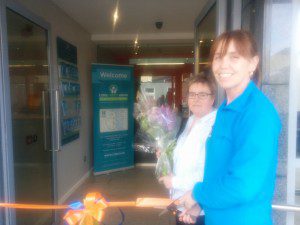 Pictured is Clare McCann presenting Michele Jenkins, the first member on Thursday morning, with a bouquet of flowers as she cut the ribbon on the opening of the new Core Credit Union Office of Glasthule/Dun Laoghaire.