All at Core Credit Union wishes a huge congratulations to Elaine Kinsella of Killiney, who will be driving around in a brand new SUZUKI Vitara, after winning Core Credit Union Members Car Draw!
Ms Kinsella's winning ticket was chosen live onstage at the Dalkey Vintage Festival on Monday 7 August by previous Car Draw winner Joan Heelan.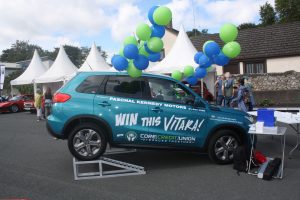 Core Credit Union Members Car Draw was launched at the Credit Unions AGM in December 2014.  To date the Members Car Draw has supplied 11 lucky winners a brand new car with the value totaling over €250 thousand.  The cost of entering the Car Draw is €40.00 per annum, payable in one amount or by debiting shares.  There are 6 draws in the year with one lucky winner every 2 months.
Ms Kinsella, who was presented with her car at Paschal Kennedy Motors said;
'I am absolutely delighted to have to won this beautiful car, its perfect timing'.  Many thanks to Core Credit Union for all their help over the years, my father (deceased) always said to enter the Members Car Draw as you could win someday.  Totally over the moon'.
Michael Byrne, CEO Core Credit Union comments;
On behalf of everyone at Core Credit Union, I would like to congratulate Elaine on her new Car.  The Members Car Draw has become more popular since it launched in 2014 and I hope it continues to do.
Sincere thanks to Paschal Kennedy Motors who have been tremendously supportive over the years and helping us to promote the Car Draw over the common bond area.  Working with local people and businesses strengths the ethos of the Credit Union and the community.
To enter the Core Credit Union Members Car Draw simply go to www.corecu.ie or drop by one of the 7 offices to complete a membership form.