The end of March 2015 marked the 6 month milestone for Core. A lot has happened in those quick 6 months so we have decided to give you an update on what's been happening. We launched this website for one, which has proved to be a huge addition for our members. Members are now able to register their account online and access it either via the web or by downloading the app. Our members are also taking full advantage of the ability to make a loan enquiry via the website with enquirys being made daily at times that suit the member. So what else has been happening in Core Credit Union in those 6 months?
Membership, Loans and Savings.
Since the merger we have approved and issued over 2,500 loans totaling over 6.5 million euro.Both the number of loans, and the amounts issued are showing a significant increase on the previous year. New members have increased, with close to 500 people opening new accounts. Members savings have also continued to grow, from €58m to €60.5m. This really is a tremendous endorsement of the merge, with members continuing to show their trust and belief in their Credit Union.
M3 Money Club
We have launched our M3 Money Club in another Primary School. St Kevin's National School in Sallynoggin became the third Primary School to join the savings scheme. We are already planning to contact other primary schools in the common bond about launching the scheme at the start of the next school year. So if you would like to see your children save in Core Credit Union through their schools, email mryan@corecu.ie and inform your child's school about the club.
Holy Child Community School
Core Credit Union are delighted to announce the launch of a new branch within the school of Holy Child Community School in Sallynoggin. This will be a branch for the students and run by the students of Holy Child allowing them to open their own accounts and save weekly for upcoming events like the annual educational trip. The main purpose of this scheme is to help educate the students in personal finance and to show them the benefit of saving and the important role the credit union has in the community. It is Core Credit Unions aim to help supplement the Credit Union with the Clued In resource to inform and educate the students in personal finance.
If you are a teacher, a parent or a student in any of the other secondary schools in our common bond and are interested in having a Credit Union in your school, or would like some more information about the Clued In resource, please email mryan@corecu.ie for further details.
Quarterly Car Draw
We are getting close to the first ever Car Draw held by Core Credit Union. The first draw will take place in July 2015, and one lucky member will win a brand new 2015 car. If you want to enter the draw, simply call into any of our offices and pick up an application form, fill it in and hand it in.If you received one of our newsletters, you can find an application form in that also. Don't leave it too late though, the clock it ticking!!! Oh and don't worry, you wont have to drive it with the balloons and stickers on it.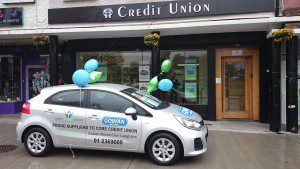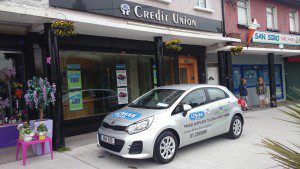 Sponsorship and Competitions
Core Credit Union were proud to sponsor the Cuala Under 14's with a new set of jerseys. We also sponsored a dancer for St Josephs AFC Strictly. At our AGM in December 2014, the members voted on and passed a donation €9,000 to the local conferences of St  Vincent de Paul. They also approved €1,000 to Protestant Aid, and €1,000 to the Friends of St Lukes.
We have held a few competitions also this year. Nigel Reid won a Motorola Moto G smartphone, and our members of the M3 Money Club in St Anne's, St John's and St Kevin's were all entered into a raffle for an Easter Egg Eggstravanganza, and we gave away boxes of cream eggs to all the students of the schools.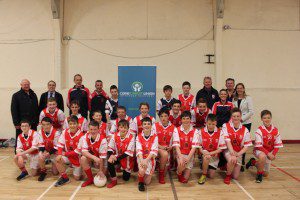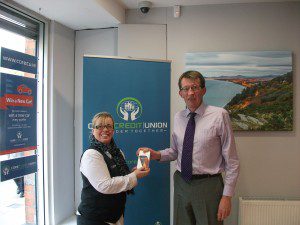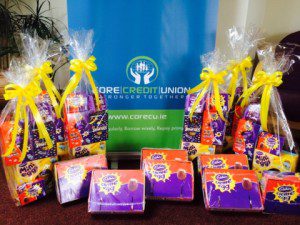 Speaking of competitions, if you read this early enough, you might want to pop over to our Facebook Page where we are giving away a fresh clean €50 note. All you have to do is like the post for a chance to win. If you are reading this after the draw, don't worry, we will be giving away a few more over the year, so its worthwhile liking the page so you can see when we give away these €50's.
We are also pleased to announce the continuation of promoting local business's. So far we have had three local business's display their services in our Shankill office. Hazel Fogarty Travel Counsellors, Darragh Connolly Landscaping and Slimming World Shankill have all had displays up this year, and all three reported an increase in business as a result. We will be looking to roll out the service to our other offices over the coming months. If you are interested in promoting your local business please contact esheridan@corecu.ie.
Social Media
We have given our Social Media a real push so far this year. Our Facebook Page and our Twitter Page are being used to highlight the Credit Union and what it has to offer as well as to promote our competitions,sponsorship and news events to everyone. We are planning on running plenty of competitions and on our social media over the coming months so sign up and keep yourself informed on those and any news we may have.
New Staff
Well, as you can see from above, we have been pretty busy. As a result, we have had to take on two new members of staff! We hope you will make them feel welcome as they perform their roles for the Credit Union and its members.
So whats to come?
We don't intend to stop there. As has been mentioned, we are aiming to get the M3 Money Club up and running in more Primary Schools and we will look at getting more Secondary School Credit Unions started.
Current Account
But that's not all. This year will see the launch of our Current Account for members. This facility will allow all members to have funds transferred electronically into their account separate from their share account and allow them to setup Direct Debits and Standing Orders from the Current Account. The facility will enable our members to have their wages, pensions and social welfare paid in directly to their credit union.
This Current Account will be separate from your Share account, and as such, will not be pledged as security against any loan you have now, or may have in the future.